COVID-19 support
This page has been created to give parents all relevant information about the COVID-19 pandemic.
Please see below for:
Key symptoms of COVID-19 and where to get help.
Useful links to guidance, including links to Public Health England.
All correspondence sent to parents, from the school, regarding the partial closure, COVID-19 response and provisions in place.
Our risk assessment for mitigating risks associated with COVID-19 can be found below.
Additionally, there are some links below with advice on overcoming anxiety around COVID-19 and also some written advice in different languages:
Keeping safe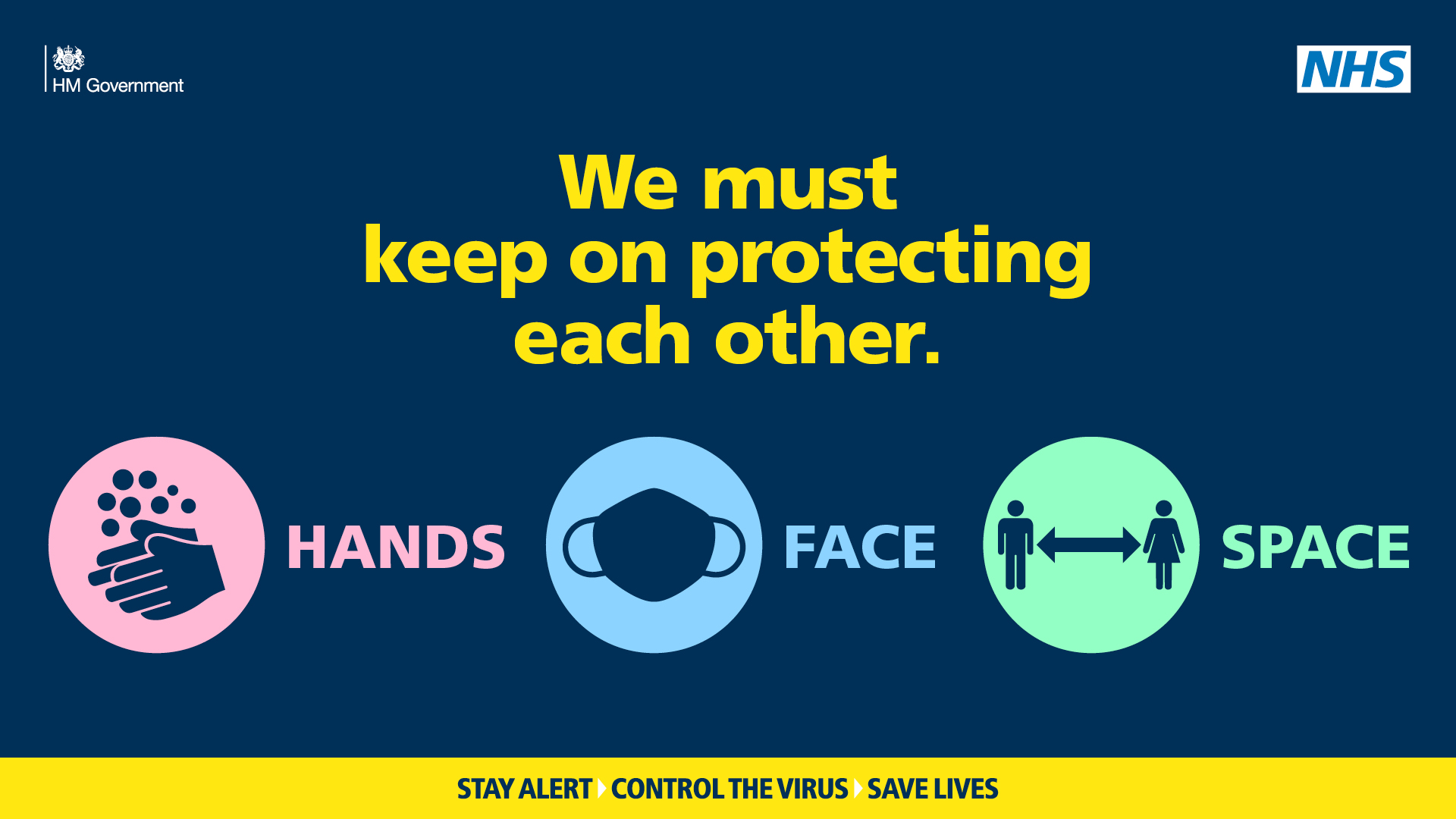 Now that all children are back in school, we ask:
Parents enter the grounds at their specified drop off and pick up time via the bottom gate and wait behind the cones/tape for their child.
All parents/carers wear a mask (unless exempt) when dropping off/collecting their child from the playground.
Parents and children leave the school via the top gate, following the one-way system and leaving the pathway clear when waiting for a child.
If collecting siblings, parents/carers should arrive to collect them at the latest time for the children's year groups (e.g. if collecting a Y6 child and a Y1 child, parent/carers should arrive at Y1's collection time to avoid waiting on the playground unnecessarily). Siblings waiting for parents will be supervised by their teacher.
No visitors enter the school other than the stated drop off/pick up times for parents/carers.
If your child has an appointment, they are permitted to arrive later via the school's main entrance, but please be vigilant with distancing in the office area.
Government guidances states:
Stay alert, Control the virus, Save Lives

Wash your hands, cover your face and keep your space.
We can all help control the virus if we all stay alert. This means you must:
Keep your distance if you go out (2 metres apart where possible).
Wash your hands regularly.
Wear a face mask indoors in public places, e.g. shops, cafes, museums etc.
Self-isolate if you (10 days) or anyone in your household (14 days) has symptoms until any relevant Coronvirus test result comes back negative. If positive, self-isolate for 10 days (14 days for members of the same household).
How to keep yourself and your family safe:
Wash your hands with soap and water (sing Happy Birthday!) throughout the day. Click here for advice on hygiene during this time.
Dry your hands - this makes your hands less hospitable for the virus!
Use hand sanitiser.
Wash your hands when you get home, visit other places, before you touch food, when you handle something that doesn't belong to you.
Avoid touching your eyes, nose or mouth.
Wear clean clothes each day.
Cough or sneeze into a tissue (or use your elbow to cover your mouth).
Stay home (see above).
Make a plan (e.g. how/when you will buy food to be out as little as possible).
Wear a mask on public transport and in shops.
Symptoms and help for COVID-19
The most common symptoms are:
a high temperature – this means you feel hot to touch on your chest or back (you do not need to measure your temperature)
a new, continuous cough – this means coughing a lot for more than an hour, or 3 or more coughing episodes in 24 hours (if you usually have a cough, it may be worse than usual)
anosmia - this means a loss of, or change in, your normal sense of taste or smell
What to do if you think you or someone in your household have symptoms:
Do not go to your doctors' surgery, pharmacy or hospital, even if symptoms persist.
Self-isolate immediately if you or a member of your household has symptoms.
Book you (or the member of your household) a COVID-19 test online.
Self-isolate until the test result(s) come back. If the result is negative, then you can resume usual activities. If it is positive, the person tested must self-isolate for 14 days while the rest of the household must self-isolate for 10 days.
If you have tested positive whilst not experiencing symptoms but develop symptoms during the isolation period, you should restart the 10-day isolation period from the day you develop symptoms.
You can use this online questionnaire to check if you have symptoms: click here.
IF YOUR CHILD IS FEELING UNWELL, PLEASE REFER TO THE FLOWCHART BELOW (attachment to download) BEFORE DECIDING WHETHER YOU SHOULD KEEP HIM/HER AT HOME.
Useful links and guidance
Correspondence to parents
Please click on the downloadable links below to see each letter or email sent by school regarding the COVID-19 response.