Curriculum vision and overview
The school continues to undergo necessary changes to ensure they are constructing an inclusive curriculum that is highly ambitious. Focusing on fewer things in greater depth, meticulous sequencing to secure cumulatively sufficiently knowledge for children's next stage of learning. Both broad and balanced, the school advocates that "Reading" is the beating heart of the curriculum and the gateway to the whole school curriculum. The new "Naunton Park CHALLENGE Curriculum" is designed to help children know more and remember more, where design is centred upon key concepts which allow children to make connection between larger ideas as they move throughout their education. It is also our intent that, through our multifaceted curriculum, married with high expectations around conduct, our children leave us as caring, respectful and acceptant young people prepared for life in modern Britain and Key Stage 3.
Naunton Park's CHALLENGE Curriculum aims to provide our children with a great education, to develop a love of learning and the capacity to make a difference in their lives. At our core is a belief in gaining depth of knowledge, in work that is challenging: both experiential and enquiry led and producing quality work. Our curriculum is not just about what we put in but is also concerned with what we draw out, encouraging children to think deeply about complex issues and achieve great things in a great way.
Focusing on fewer things in greater depth, our unique design enables quality work on key concepts, deepening children's understanding over time. Learning is also anchored in valuable key experiences, imparting new knowledge. We focus on developing the learner as an individual, to be curious, independent, resilient, resourceful and thoughtful.
Pieces of learning are enquiry led providing children with opportunities to demonstrate and represent their learning in different ways. It is centred upon carefully selected leading and supporting literature which is being mapped out from EYFS to Year Six. There is a love of reading in our curriculum and throughout the school, in both reading for pleasure and reading for knowledge.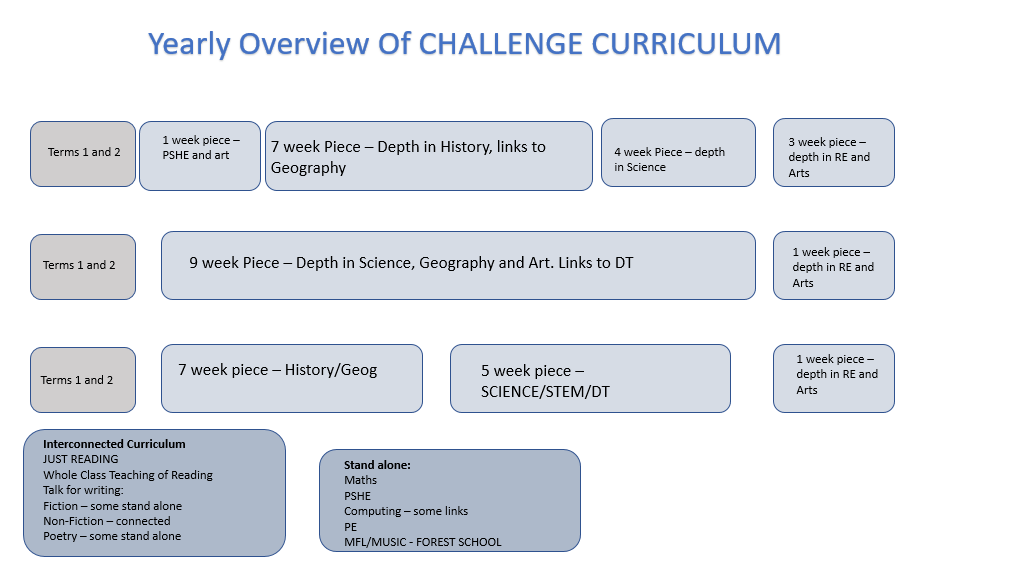 The Challenge Curriculum
Child centred
High quality, rich texts
All-inclusive
Love of learning
Learning outdoors
Expectations of quality work
New experiences
Growing minds
Every child a reader