Pre School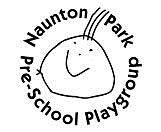 Naunton Park Pre-school Playgroup is a non-profit making, community playgroup overseen by a committee of volunteers. It is a registered charity and has been operating within Naunton Park Primary School since 1984. It is independent of the school but benefits from extremely close links. The familiarity of the buildings and participation in key events in the calendar year (i.e. Harvest Festival, School plays, etc.) provide a valuable introduction to the school. Playgroup follows the same term calendar as the school.
Facilities
The playgroup has a dedicated area within the school which consists of a general playroom, separate Art and Craft area, kitchen and cloakroom. Outside the playgroup has its own garden and a large section of playground. A recent purchase of an outdoor shelter has given the playgroup more opportunities for outside play. The playground has a generous store of age appropriate wheeled toys.
Pre-School
Pre-school morning sessions run each day from 9am to 12noon. The children have the opportunity to attend 9am to 3.30 on Thursdays and Fridays. On these two days the children bring their lunch and eat together in the playgroup and during term 5 and 6 the children join in the school's lunchtime play – giving more opportunities to sample school life.
Pre-Pre-School
Pre-pre-school afternoon sessions run from 1pm to 3.30pm. Which afternoons are open vary from term to term and from year to year. Children aged from 2years 6months can attend these sessions.
Fundraising
The playgroup is very active with fundraising events and the success of the playgroup is dependent on continual support from parents both in helping run activities and supporting fundraising events. The Christmas and Summer Fairs are the major fundraising events of the year, but other activities have included, quiz nights, nearly new sales, sponsored events and social evenings.
Contact details:
Naunton Park Pre-School Playgroup, Naunton Lane,
Leckhampton,
Cheltenham,
GLOS GL53 7BT